---
A didactically sound example-ontology for teaching description logics in OWL 2
---
Motivation
Over the years several OWL ontologies have been published to serve as training examples in teaching the principles of description logics and ontology development to a wide audience.
As some of these resources make no commitment to the biomedical target domain, they increase the learning threshold by adding the burden of an unfamiliar topic area in addition to the technicalities and the intended domain independent description logics principles.
We argue that the outstanding role of formal ontologies in the life sciences is important enough to warrant a robust teaching ontology that is optimized for the biomedical ontology novice intending to learn the basics of description logics in OWL 2. We present a list of requirements for user compliant teaching ontologies and exemplify these in the ZooAnimal Ontology justifying design decisions with intuitive teaching examples and exercises, carried out and tested in a didactical teaching effort, the GoodOD summer school:

The GoodOD Project, http://www.iph.uni-rostock.de/Good-Ontology-Design.902.0.html
Boeker, M et al. "Teaching Good Biomedical Ontology Design" In: Proceedings of the 3rdInternational Conference on Biomedical Ontology (ICBO), 2012.
Download & Installation
ZooAnimals.owl
Overall Class Structure: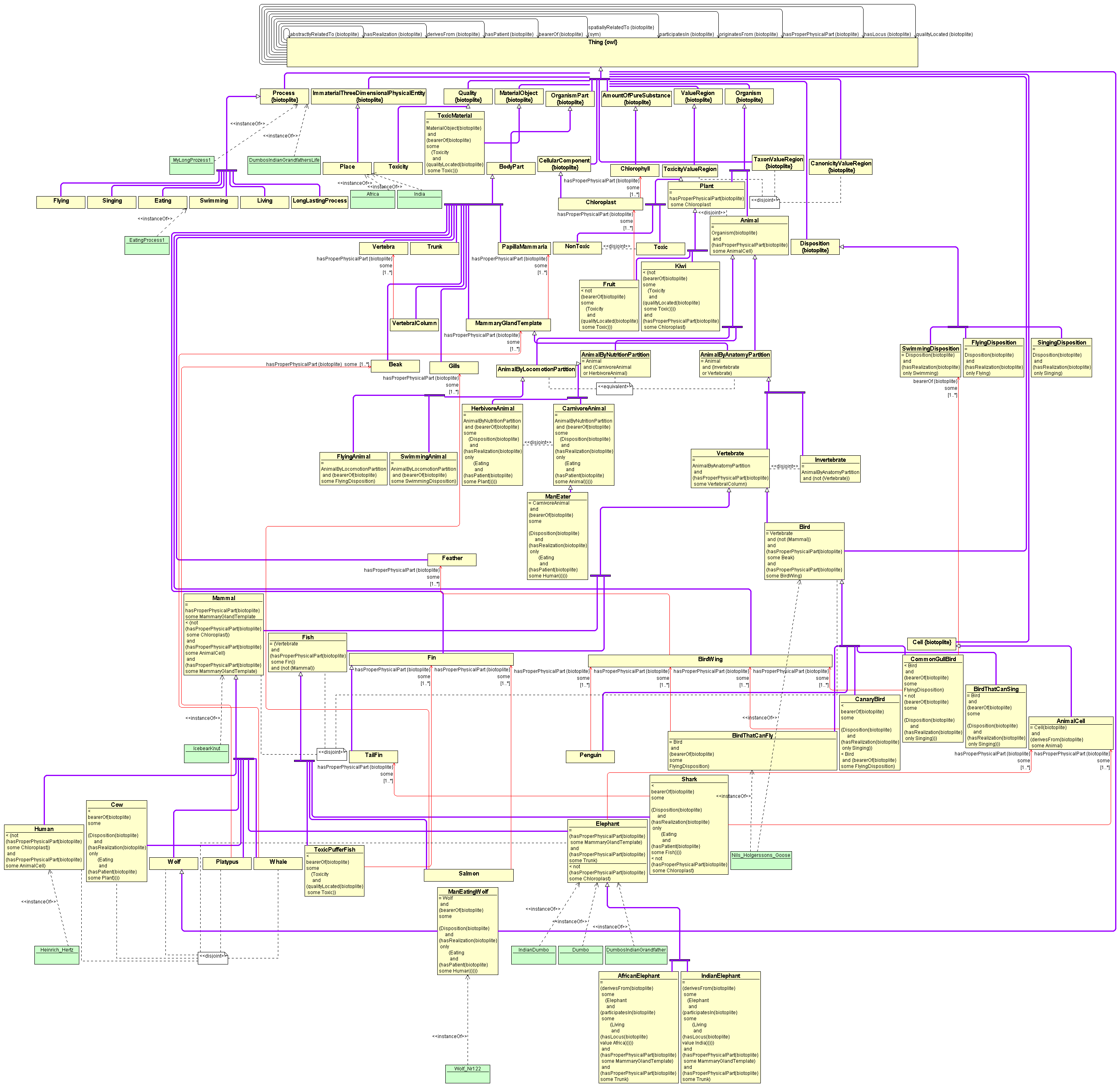 Example Usages in an Ontology Engineering Teaching Curriculum
Example exercises from the GoodOD curriculum, illustrating the ZooAnimal ontology in use: A) Example of a task in the curriculum within the Relations-Module. The students had to add the missing object properties (red) to a given graph excerpt from the Zoo Animal ontology. B) An exercise from the DL intro module, where the students had to fill in missing constructors and operators for given ontologic statements.



Competency Questions

Here we list a few queries our ontology (or an annotated data set/knowledgebase?) should be able to provide correct answers for:

What animals are carnivores, what are Omnivores ?
What animals live always in the water ?
Why is the whale not a fish ? (Surface Breather: Has Lungs, not Gills)
What animals have the disposition to fly ? (Flying Fish? Flying Lizards, Bats,
Can all birds fly ? (Kiwi, Ostrich)
What is the difference between reptiles and birds ?
Why are birds and reptiles not disjoint? (Archaeopteryx)
Competency Questions currently beyond the scope:

Does Frogs and 'Knut' live in the water ? (Instance level, Knut is not living at all, he is only hunting in water, but mostly lives on Ice (role of land?))
Are there humans with two heads ? 6 toes ? (cannot be modeled . And even if, it would require an extremely sophisticated anatomy including all the exceptions)
Is the Kiwi a bird or a fruit ? (Homonyms)
What is an Organism ? (N&S def)
Why is the Portuguese Man o' War (Physalia physalis) not a jellyfish and not an organism ? (It is a colony of multiple specialised individuals/organisms. Or can a colony be seen as an individual organism ? Biologists can define this somehow or other. Is there a consensus ?)
What is an Organ ? (the Portuguese Man o' War builds Organs from specialised individuals.)
What is life ? What is death ? (Bacteria display no natural death due to age and there are no corpses. They merely divide.)
Are human germline cells immortal ?
What taxonomic classes are found in the Humans phylogenetic tree ? (Apes, Mammals, Reptiles, Amphibia, Fish, Chordata, ..., a second-order problem )
Human Embryos live in some kind of water and even develop rudimentary gills at certain stages. Atavisms occur, e.g. Humans with tails
Extensions discussed
Further classes and potential patterns that were discussed to be included:
Processes:

Are currently only included as flat undefined classes serving dispositions that are needed for partitions, e.g. Flying for the AnimalsThatFly Partition. No process part orders or temporal parts have been defined yet.

Roles and Functions

: "What animals are pets of humans ?"

Property Chains

Relative and absolute time models: Timing of events in processes: e.g. the caterpillar transforms to a larva and does a metamorphosis to a butterfly if the temperature and humidity conditions are suitable.
Defaults, Causality, Uncertainty

:

i.e. representation of "may", "typical", qualitative reasoning under uncertainty: e.g. "Pneumonia may be caused by bacteria". "A workers bee larva may develop into a queen bee, if it is fed with gelee royal, a special hormone rich food." "The typical lifespan of a whale, if not hunted, is around 80 years" "The Lung Fish is a fish that can live on land for extended periods."

Approximation, qualitative values, proportion etc. of measures

: e.g. "Whales can dive deeper than 2000 meters for short periods of time"

Synergetics:

Cases in which the whole of parts is the product rather than the sum of its parts, i.e. properties of things change, emergent properties like a bee hive that is a meta-organism.

Explanations:

"A whale is a mammal and not a fish because it has milk glands and is air-breathing and has lungs, rather than an air-bladder and gills as fish have."

Hypothetical statements, particularly as parts of explanations

: e.g. "Eusocial Insect colonies (like the termites, bees) use decentralised, self-organised systems of activity guided by swarm intelligence to exploit food sources and environments that would not be available to any single insect acting alone. Social behaviour provides economic benefits for all participants as long as the social group is not distorted."

Relative measure, maximum, minimum:

e.g. "Owls lay between 2 and 6 eggs per year." "Birds have varying ages from 3 to 150 years.", "The Parrot lives as long as humans. ", "Some turtles live 3 times as long as humans.", "The grown up elephant weigths more than 10 times that of its birth weight".

Representation of context:

e.g. "In older ice bears the illness is rarely serious, but in infants in can be fatal".
Contact & Questions
ZooAminals.owl is provided free of cost, is published under the terms of the GNU General Public License and is, of course, provided without any warranty.
If there are still features missing, please contact us:


dschober at ipb-halle.de


Acknowledgements
This work is supported by the German Science Foundation (DFG) as part of the research project JA 1904/2-1, SCHU 2515/1-1 GoodOD (Good Ontology Design)